Home
Talk

2
418pages on
this wiki
Featured Article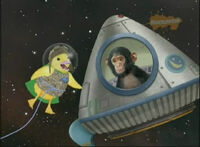 Save the Chimp! is an episode of Wonder Pets! from season one.
Characters Present: Linny, Tuck, Ming-Ming, Chimp, Mother Chimp, Father Chimp
Summary: The Wonder Pets rig their Flyboat for space travel and head for the stars to rescue a baby chimp who is adrift in a rocket ship.
News
Sister wiki Oobi Wiki is requesting a spotlight! The spotlight will appear on Wikia in the next month or so! Keep looking for it...Oobi's always with you!
About Wonder Pets!
Wonder Pets! is a Nick Jr. television series aimed at preschoolers. The show features three class pets, Linny the guinea pig, Tuck the turtle, and Ming-Ming the duckling, who turn into a team of superheroes whenever the students are away. In each episode, the trio goes on adventures in their Flyboat to save baby animals. The show was created by Josh Selig, well known for his previous TV series Oobi.
Current Poll

Who's Your Favorite Character?