Summary
The Baby-Boat is a classroom-made baby stroller with the Wonder Pets' modifications. The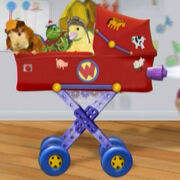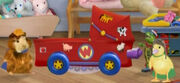 Pets build and drive it to get to another classroom where a crying baby piglet was located.
It was the ability to stand up like a real stroller and lay down, so that it looks similar to a car.
Looks
The body of the Baby-Boat is a red stroller with the gears. It was the wonder Pets' logo with wacky bumper stickers of farm animals: a horse, a cow, a sheep and a pig. On the front side of the stroller is a red button that Linny pressed to extend the legs and start the engine. It has the wheels and rockets from the Flyboat and the legs are the same erector pieces that the mast is made up of.
And from the back, not only can you see another Wonder Pets' logo but the fact that the Baby-Boat has a license plate with a picture of a stalk of celery.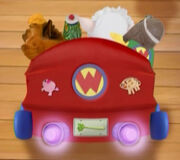 Appearances
The Baby-Boat appears only been in Three Wonder Pets and a Baby!