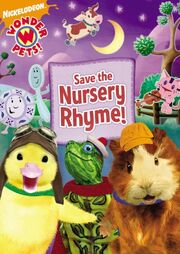 Save the Nursery Rhyme! is an Wonder Pets! DVD. It is realeased on June 3, 2006.
Episodes
"Save the Nursery Rhymes"
"Help the Cow Jump Over the Moon!"
"Save the Itsy Bitsy Spider!"
"Save the Griffin!"
"Save Humpty Dumpty!"
"Help Po Peep!"
"Save the Rooster!"
"Save Little Red Riding Hood!"
"Save the Turtle!"
"Save the Panda!"
"Save the Mouse!"
Ad blocker interference detected!
Wikia is a free-to-use site that makes money from advertising. We have a modified experience for viewers using ad blockers

Wikia is not accessible if you've made further modifications. Remove the custom ad blocker rule(s) and the page will load as expected.