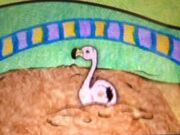 Save the Flamingo!

Episode

Season 2, Episode 11B

Airdate

Monday, October 22, 2007

Previous Episode

Next Episode
Save the Flamingo! is an episode of Wonder Pets! from season two.
Characters Present
Summary
When a baby flamingo is trapped in a muddy pit, the Wonder Pets most fly into a coloring book to save him. This brightly colorful world provides an exciting adventure for the Wonder Pets, who face the challenge of rescuing the flamingo without falling into a trap.
Trivia
The Wonder Pets, the baby flamingo and uncle flamingo perform "To Be Free!," on the original Wonder Pets! music album. This track was the only song on the album to featured in a Wonder Pets! episode that originally premiered after the album was released.
This is one of the episodes where the Wonder Pets go in a coloring book, like Disney Stanley's Great Big Book of Everything.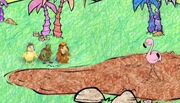 Ad blocker interference detected!
Wikia is a free-to-use site that makes money from advertising. We have a modified experience for viewers using ad blockers

Wikia is not accessible if you've made further modifications. Remove the custom ad blocker rule(s) and the page will load as expected.