Save the Camel!

Episode

Season 2, Episode 1

Airdate

September 10th, 2006

Previous Episode

Next Episode
Save the Camel!
is an episode of
Wonder Pets!
from season two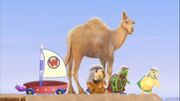 .
Characters Present
Summary
The Wonder Pets fly to Egypt to help a thirsty Baby Camel get home to his oasis.
Trivia
The Wonder Pets jump into the box and come out as Egyptians. Later on, they wear traditional Egyptian headgear to shade themselves from the sun.
Ad blocker interference detected!
Wikia is a free-to-use site that makes money from advertising. We have a modified experience for viewers using ad blockers

Wikia is not accessible if you've made further modifications. Remove the custom ad blocker rule(s) and the page will load as expected.