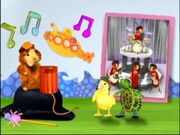 Save the Beetles!

Episode

Season 2, Episode 19a

Airdate

Monday, April 21, 2008

Previous Episode

Next Episode
Save the Beetles! is an episode of Wonder Pets! from season two.
Characters Present
Summary
The Wonder Pets journey to Liverpool to save a band of mop-haired beetles who are trapped in a submarine.and goes to the concert at the end
Trivia
The beetles depicted on the film have songs similar to the band, The Beatles.
Ad blocker interference detected!
Wikia is a free-to-use site that makes money from advertising. We have a modified experience for viewers using ad blockers

Wikia is not accessible if you've made further modifications. Remove the custom ad blocker rule(s) and the page will load as expected.