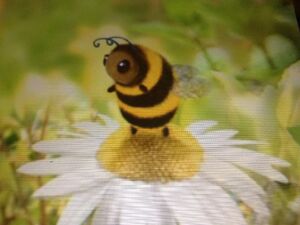 Save the Bee!

Episode

Season 2, Episode 12a

Airdate

October 23rd, 2007

Previous Episode

Next Episode
Save the Bee! is an episode of Wonder Pets! from season two.
Characters Present
Summary
The Wonder Pets shrink down to bee-sized to help a Baby Bee make her first collection of nectar for her hive.
World Skill
Best to keep trying until you accomplish something, meaning to not give up.
Trivia
The Wonder Pets turn the flyboat into a The Bee-Boat and to fly through a shrinking machine that shrinks them to the size of bees.
Tuck drives the boat in this episode, even though if it is his first time.
A girl can be seen through the classroom door just after the class dismisses, buzzing, dancing and singing that she pretends to be a bee.
Gallery