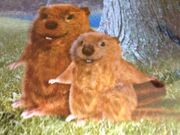 Save the Beaver!

Episode

Season 2, Episode 14

Airdate

October 25th, 2007

Previous Episode

Next Episode
Summary
The Wonder Pets need to help the beaver with a leaky dam. The resolution is when the Wonder Pets plug up the hole in the leaky dam.
Trivia
The mama beaver shares the Vermont cheddar cheese with the Wonder Pets towards the end of the episode. Ming-Ming finds the cheese "sharp."
Ad blocker interference detected!
Wikia is a free-to-use site that makes money from advertising. We have a modified experience for viewers using ad blockers

Wikia is not accessible if you've made further modifications. Remove the custom ad blocker rule(s) and the page will load as expected.